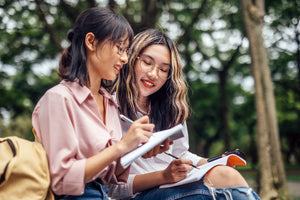 The Best Thai Language Schools in Bangkok
Are you looking for a Thai language school in Bangkok that can help you learn to speak Thai quickly? Look no further than Berlitz. We have developed a unique teaching method that helps students quickly immerse themselves in the Thai language. Our Thai lessons are led by native Thai speakers who are also certified in the Berlitz Method. This means that they not only know how to effectively communicate in Thai, but they also know how to teach it in a way that is easy for students to understand. As a result, our students can begin speaking Thai immediately, allowing them to quickly progress in their language skills. Whether you are looking to learn Thai for business or travel, Berlitz can help you to achieve your goals.
Contact us today to find out more about our Thai lessons and how we can help you to learn Thai fast.
Thai lessons with The Berlitz Method
Thai is a beautiful and melodic language that is spoken by over sixty million people worldwide. While Thai may seem like a challenging language to learn at first, Berlitz Thai lessons are designed to make the learning process enjoyable and rewarding. In addition, to focusing on the fundamentals of Thai, our lessons also include cultural lessons that allow you to better understand how to use the language. This includes nonverbal communication signals, hand gestures, word choice and much more. With Berlitz Thai lessons, you'll be speaking Thai like a native in no time.
Thai lesson options
In-person Thai lessons
Berlitz offers Thai lessons at our language centers in Bangkok. Our face-to-face Thai lessons include learning with a native-fluent instructor who teaches using the Berlitz Method to encourage natural conversation skills, getting you to speak Thai from day one. In addition, our Thai lessons are small and intimate, which allows for customized attention based on your level and needs.
Online Thai lessons
Berlitz online Thai lessons offer the practicality you have always wanted to learn a new language in the best possible way. With online lessons, you can choose where and when you want to take your classes, enabling you to make better use of your time and organize your schedule appropriately to fit language learning into your day.
Advantages of learning Thai with Berlitz
10 levels of proficiency
With Berlitz, you can take a proficiency test and a quick language assessment to find out which level suits your needs. There are 10 levels tabulated according to ability.
Fast and efficient learning
You will quickly advance, understanding in an agile and practical way as you progress
through the program levels.
Cultural understanding beyond just language
Classes focus on going beyond just the language. You will get to know a whole new culture directly with native and experienced teachers whilst immersing yourself in the language.