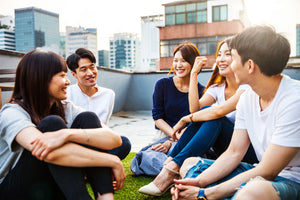 Unlock Your Korean Journey
Speak, Embrace, Connect with Berlitz!
Discover the vibrant world of the Korean language in the heart of Bangkok. Embark on a 15-week Korean language journey designed exclusively for beginners at Berlitz Sukhumvit Center. Our small group lessons (2-3 students per class) ensure personalized attention, fostering an optimal learning environment.

Course Details:
Duration: 15 weeks
Schedule: Every Saturday 14:30-16:00 or Sunday 14:30-16:00
Start Date: November 4th or 5th, 2023
Location: Berlitz Sukhumvit Center, Exchange Tower 2nd Floor
Accessibility: 1-minute walk from BTS Asok station or MRT Sukhumvit station

Overview
Join our Korean language course tailored for beginners, utilizing The Berlitz Method, a tried-and-true approach perfected over 145 years. With a small group setting of 2-3 students, you'll receive personalized guidance and ample opportunity to practice.
Course Highlights:
Small Group Setting: Benefit from a small class size (2-3 students) to maximize interaction and individualized instruction.
No Prior Background Required: This course is designed for absolute beginners, so no prior Korean language knowledge is necessary.
Expert Native Instructors: Learn from experienced native Korean instructors dedicated to helping you grasp the foundations of the language.
Choice of Start Day: Choose between starting on a Saturday or Sunday at the time of registration, and your choice will be fixed for the duration of the course.
Why Choose Berlitz?
Immerse yourself in the Korean language while experiencing the vibrant culture of Korea. Our beginner-friendly course using The Berlitz Method ensures that, by the end of this 15-week program, you'll have the skills and confidence to communicate effectively in Korean.
Book Your Spot
Secure your spot for this small group Korean language course tailored for beginners. Embark on a fulfilling language learning journey in Bangkok and open doors to new opportunities and experiences.